E-kids is a digital educational tool that supports primary school teachers managing entrepreneurial projects in the classroom.
E-kids offers activities that allow every pupil to develop their self-esteem and reach their full potential by experiencing a veritable entrepreneurial adventure.
With e-kids, every pupil can take part in the project and learn new skills.
Available in French and English, e-kids is designed to awaken the entrepreneurial spirit in primary school pupils.
A turnkey tool
A whole ensemble of resources that support teachers as they manage their own class projects.
An accredited tool
Built in collaboration with teachers, head-teachers and national education inspectors.
The benefits
An innovative class project that aims to develop self-esteem, creativity and team work.
How does it work?
Register
Benefit from one year of free access to all the educational resources for the project: videos, music, educational worksheets, user manuals, advice and sources of inspiration.
Go even further by ordering an  e-kids box that features evaluation tools
Take advantage of our training sessions and personalised support packages 
Discover e-kids in 1 minute
The free on-line tools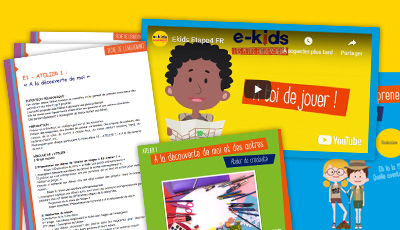 E-kids includes, above all, countless free tools that are available to teachers: educational worksheets, films and music that allow teachers to effectively and independently manage their own entrepreneurial adventure in the classroom.
The e-kids BOX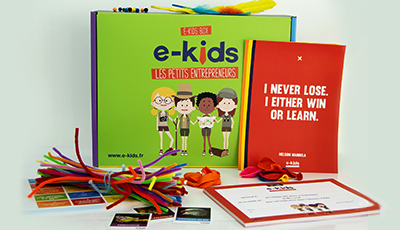 Our box provides teachers with practical tools (timeline poster, creative materials, invitation cards…) and evaluation tools to encourage pupils (pride table, inspirational posters, rewarding messages).
Support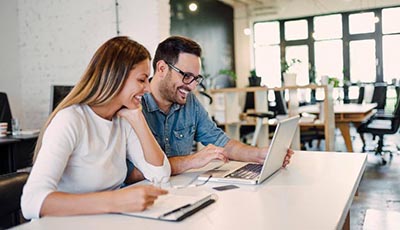 E-kids coaches can provide personalised assistance to teachers in order to help them use the tools available: using the site, pupil evaluation methods, setting up activities…
Testimonials and feedback on the experiences
The e-kids tool has been tested on a number of classes in key stages 1 and 2. Pupils, parents, teachers and inspectors give their feedback on the benefits that you can enjoy by setting up an e-kids project.
Inspector
Two important challenges are evident in the e-kids project: the first is that it responds completely to the priorities of the national curriculum with regards to the fundamentals: reading, writing, speaking in public and a respect for others. The second advantage for children, and one that is really essential, is self-esteem. That is to say, all the social and civic skills that the child must develop in order to want to learn
Inspector
E-kids is a project that brings together everything that is learned, one that really involves the pupils in school life and in their education, and therefore this project is perfectly suited to primary education.
Parent
I enjoyed the opportunity to make my pupils work in a different way, to organise this project alongside my pupils, because some of them really came out of their shells. The pupils really grew in self-confidence and were brave enough to speak in public.
Teacher
Pupils were happy and proud to have taken part in an exhibition on the theme of difference, to have organised an event and to have been able to show their families.
Teacher
The « Canadian » style system of partnerships, focusing on multiple talents, allows pupils to develop the skills they learn at school within the framework of a concrete project and it prepares them for their future lives as members of society
Teacher
E-kids allows us to create links with a variety of different partners: national educational bodies, the children and the entrepreneur. Through this we can bring people together and that is really important nowadays.